SCT-ESTER
Many professionals are aware of the fact that the introduction of group V base oils – synthetic esters or esters – into lubricants gives them new unique features. They significantly exceed the characteristics of all known traditional synthetic oils made using the III (hydro creaking) and IV (PAO) groups of base oils.
The team of scientists and engineers of the SCT group has set an ambitious goal to make it possible to use esters widely in aviation and military equipment and in the mass production of lubricating oils for automobile engines. Today we are proud to present our new technology – SCT ESTER.
We were able to develop, synthesize and start our own production of group V oils, and use the cost-effective SCT ESTER technology, which gives such amazing high standards of engine protection, in many ways exceeding the standard requirements of most OEMs.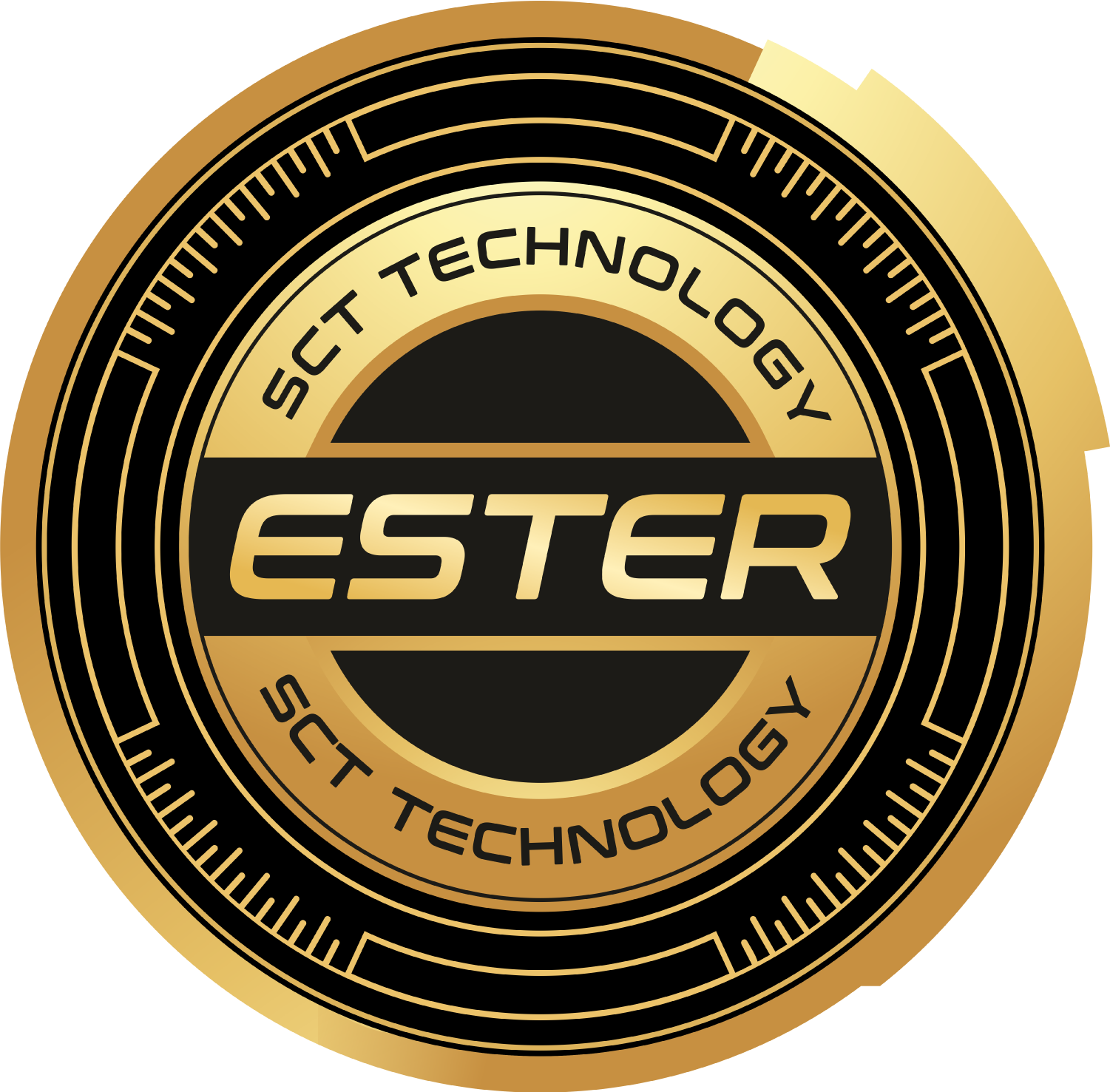 SO WHAT ARE THE ADVANTAGES OF USING SCT ESTER TECHNOLOGY AND WHAT MAKES OUR OILS SO UNIQUE IN TERMS OF ENGINE PROTECTION?
STABLE OIL FILM
SCT ESTER molecules, unlike hydrocarbon molecules, have a polarity, i.e. they have their own "PLUS" and "MINUS". This feature leads to the fact that ether molecules are attracted to the metal surfaces of car parts like a magnet and form a strong and stable oil film. This film is less susceptible to breakage, lasts longer on the surface in a wide temperature range and can withstand much higher loads – 22,000 kg/cm² or more. Thus, it provides an easy start in winter, reducing starting wear – which accounts for up to 80% of the total wear of engine parts and ensures performance in extreme conditions at elevated engine operating temperatures. It also provides excellent anti-friction and anti-wear properties. Tests carried out by our company's engineers have shown that the introduction of 5% esters in commercial engine oil reduces the wear spot determined on the friction machine by at least 20%. For the consumer, this means a significant increase in the service life of the engine and its individual components.
EXCELLENT VISCOSITY-TEMPERATURE PROPERTIES
The natural property of esters is an extremely high viscosity index – up to 160 – 180 and higher. This means that their viscosity is slightly affected by temperature. And this, in turn, allows you to do with fewer thickening and depressant additives (or even do without them), which in any oil are the "weak link" and are subject to destruction due to their complex molecular structure, which also has a positive effect on the resource of commercial oil. The solidification temperature of ester – containing oils can reach – 70° C, which has led to their widespread use in military and civil aviation, and the operating temperatures that they can withstand reach 200 °C or more, which has ensured their widespread use in Motorsport.
LOWER EVAPORATION RATE AND HIGH THERMAL-OXIDATIVE STABILITY
Esters, unlike oils of group III and even group IV, which are not completely homogeneous, are a product of chemical synthesis a set of perfectly identical molecules between which there are strong intermolecular bonds. Therefore, they have less evaporation, which contributes to less oil consumption for carbon monoxide. Esters have an extremely high thermal stability, which is why they are widely used in jet aviation. Both of these factors allow you to extend the service life of commercial oil, increase the interval of its replacement, and the consumer – to save money on car maintenance.
AEROSPACE TECHNOLOGIES ARE NOW AVAILABLE TO EVERYONE
The use of synthetic esters as lubricating oils began in Germany from the very first days of the birth of jet aviation. At the moment, they are used in addition to aviation in gas pumping units (turbines), high-load transmissions operating in the Arctic, in military equipment, in refrigeration equipment, etc. SCT engineers managed to find a balance between price and quality in their products, as a result of which our customers can now buy much more advanced products for the same money.